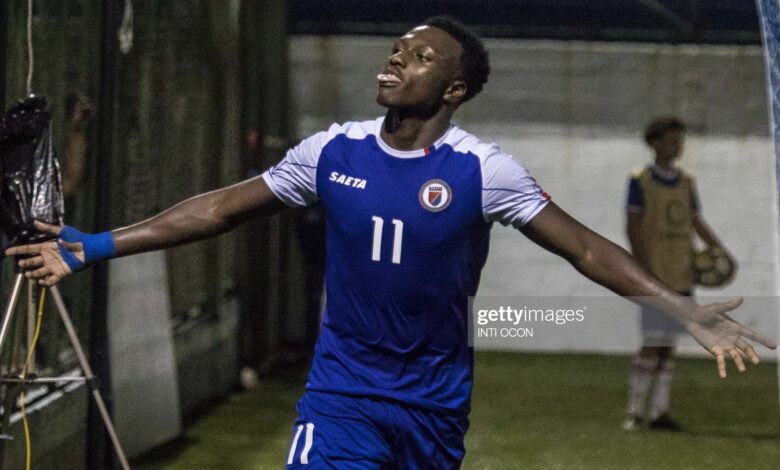 [ Par, Valery Felix]
Port-au-Prince, le 10 Juin 2022: La situation de l'équipe haïtienne qui participe à la Ligue des Nations de la CONCACAF continue de retenir l'attention de plus d'un si on considère certaines déclarations d'éléments constituant le groupe haïtien.Sur son compte Twitter, Derrick Étienne a fait des révélations concernant ce qui se passe au sein du vestiaire haïtien. "Je suis à bout de mot. Si vous saviez ce qui se passe dans les coulisses, vous comprendrez les frustrations de l'équipe," a t-il écrit.
I'm at a loss for words. If ya knew what was going on behind the scenes you would understand the frustrations of the team

— Derrick Etienne Jr 🇭🇹 (@detienne_10) June 9, 2022
Ce message du numéro 10 haïtien survient quelques heures après le voyage à partir de la République dominicaine jusqu'à Guyana de l'équipe haïtienne qui a dû souffert pendant environ trois (3) heures à l'aéroport guyanais pour n'avoir pas rempli certaines obligations devant faciliter la venue de la délégation haïtienne.
Comprenant l'approche du joueur haïtien, il est évident de noter que les violons ne s'accordent pas en ce qui concerne la gestion de l'équipe haïtienne pourtant en pleine reconstruction si on veut croire l'une des dernières déclarations du sélectionneur Jean Jacques Pierre au micro de Ernst Bendjy Joseph.
Cette sortie de Derrick Étienne Junior vient s'ajouter à celle déjà vécue et qui a même conduit à la suspension la dernière fois de plusieurs autres joueurs dont Duckens Nazon et Frantzy Pierrot considérés pourtant comme des cadres de l'équipe haïtienne.
Entre évidence et l'inefficacité, l'incompétence des actuels responsables de la Fédération Haïtienne de Football (FHF) témoignent leur maladresse pour redresser la situation d'un secteur décrier .
La gestion de Jean Jacques Pierre au niveau du staff technique de l'équipe haïtienne demeure jusqu'à inappropriée aux attentes du public haïtien et déjà la peur s'installe et l'éffondrement définitif des efforts consentis depuis des lustres semblent en cours d'exécution.
Entre les membres du comité de normalisation de la FHF et le staff technique haïtien, qui sont le vrai responsable de cette descente aux enfers du football haïtien?
Valéry FELIX
fvalery751@gmail.com